Paris, Burgundy
&

Provence

The Perfect Taste of France
A well-rounded trip full of delectable food and wine tastings mixed with architectural wonders, makes this the quintessential trip to France. Start your journey by flying nonstop from Indianapolis to Paris. See the most famous sites including the Arc de Triomphe and the Eiffel Tower. As France is known for its wine, being right in the center of the Burgundy wine making region allows for amazing wine tasting, discovery of architecture and ruins, and even some mustard tasting and leisure time in a charming riverside town. Two thousand years of history and architecture await you in the city of Lyon where the Saone and Rhone rivers meet. Lyon, the third largest city in France, offers the chance to experience medieval and Renaissance architecture and take a trip to the market for a tasting tour and cooking class. Set your sights on the "City of Popes" and tour its gothic-style papal palace and ancient ruins in Avignon and Arles.
The south of France beckons you to Provence and Nice where cobblestone streets lead you to boutiques and galleries, jagged cliffs and open fields flood your vision with flowers and colorful delights, and the Mediterranean Sea hypnotizes you with beauty. It's easy to see why so many artists and tourists are drawn to such a lovely area. The journey culminates with a high-speed train ride back to Paris and a farewell dinner overlooking the city. With such a variety of experiences offered, this trip is the perfect taste of France.
HIGHLIGHTS INCLUDE
Winery visit with lunch in Beaune
Market tasting tour with a local guide and cooking class in Lyon
Explore the Palais des Papes in Avignon
See the Roman aqueduct of Pont Du Gard
Visit Chalon-sur-Saone and Chateau de Cormatin and Gardens
Discover the walled villages of Provence
Tour the Fragonard Parfumerie
Guided tour in Paris
Dinner at Ciel de Paris, the highest panoramic restaurant in Paris
First class TGV train from Avignon to Paris
Nonstop flights between Indianapolis and Paris
PACKAGE INCLUDES
Roundtrip commercial air from Indianapolis to Paris, France
Escorted
9 nights accommodations
Breakfast daily
2 lunches, 4 dinners
Sightseeing and admissions per itinerary
Ground transportation
Hotel baggage handling
NOTE:
PASSPORT REQUIREMENT!
A passport is required to travel to this destination and must be valid for at least six months beyond your date of return.
This itinerary includes activities where moderate walking on uneven terrain, cobblestone streets and sometimes at an incline will be required.
Itinerary
Wed, Apr 24: Depart on a nonstop overnight flight from Indianapolis to Paris, France.
Thu, Apr 25: Arrive in Paris and spend some time getting to know the city with a local guide. See the Champs Elysee, the Arc de Triomphe and Les Invalides with a photo stop at the Eiffel Tower. Check in to your hotel in the afternoon and regroup for a Welcome Dinner at a local restaurant. (Meal: Dinner)
Fri, Apr 26: Following breakfast at the hotel, head for Beaune in the heart of the Cote d'Or, the wine making region of Burgundy. Its location makes it one of the key wine centers in France – but that is not all you'll find here! In addition to quite a bit of scenery, the old town rampart walls and architecture, there are unique shops around the central square and Roman ruins throughout. Visit to a local winery and enjoy a wine tasting followed by lunch. The balance of the day is at your leisure. Overnight in Beaune. (B,L)
Sat, Apr 27: Start the day at Moutarderie Fallot, a mustard mill and independent family business since 1840. Awaken your taste buds with a delightful tasting before continuing into southern Burgundy for a sightseeing stop in Chalon-sur-Saone, a charming riverside town at the heart of the Cote Chalonnaise wine region. Then, history comes to life in the medieval village of Brancion with a tour of the majestic, 17th-century Chateau de Cormatin featuring lavishly gilded rooms, extensive tended gardens and a moat! The day of touring concludes in Lyon where you'll spend two nights. (B)
Sun, Apr 28: Meet a local guide this morning for a tour of the city culminating with a visit to the market for a tasting tour, cooking class, and lunch. After a little rest back at the hotel, regroup to enjoy a dinner cruise on Lyon City Boat. (B,L,D)
Mon, Apr 29: Travel to Avignon, a Provencal city that rests alongside the Rhone River and known as the "City of the Popes." Pope Clement V moved the papal court to Avignon from Rome in 1309 and Pope Benedict XII commissioned the construction of the Palais des Papes, the papal palace. Enjoy a guided visit of the Gothic-style palace before checking in to your hotel in Avignon for two nights. Spend an evening about the town having dinner and time to shop on your own. (B)
Tue, Apr 30: Spend a full day sightseeing around Avignon and surrounds including Chateauneuf-du-Pape, a medieval village on the side of a hill, guarded by the ruins of an ancient chateau towering above. See the Roman aqueduct of Pont Du Gard, a bridge built by Roman architects and hydraulic engineers who designed a technical, yet also artistic masterpiece. Visit Arles, classified as an UNESCO World Heritage site, where Vincent Van Gogh lived and painted during the last months of his life, and home to one of the most well-preserved Roman amphitheaters, still in use today for musical concerts. Return to Avignon for an evening at leisure. (B)
Wed, May 1: Set off for an adventure in Provence, visiting three walled villages. Les-Baux-de-Provence, set on a jagged cliff south of Avignon, merits a stop to stroll through the ruins of its walls and browse the boutiques and galleries. Be sure to buy a container of olives, for which the area is famous. Next, Aix-en-Provence, birthplace of artist Paul Cezanne, is known for its romantic streets and Art with a capital A! It is one of the most charming towns to visit with its tree-lined cobblestone streets, 16th century fountains and facades. Cap off the day in the little medieval town of Saint-Paul-de-Vence, refuge to many artists and sculptors and with a reputation for attracting the rich and famous. Continue to the Cote de Azur to spend the next two nights in Nice. (B,D)
Thu, May 2: Enjoy a sightseeing tour in Nice with a local guide. Graced with an average of 2,640 hours of sunshine per year, Nice proudly wears the colors of Chagall and Matisse: Its Mediterranean bay is azure blue, its tiled roofs are red, its houses ocher and yellow, and its gardens emerald green. All these colors also show up at the wonderful flower market on Cours Saleya. Not far from Nice, tucked away in time and perched on a hilltop lies the charming village of Eze. Catch striking views of the Mediterranean from its vantage point, and tour the Fragonard Parfumerie to discover the manufacturing secrets of their products: perfumes, soaps and cosmetics developed from the best raw materials. Spend some free time on your own before returning to Nice for an evening to do as you please. (B)
Fri, May 3: Transfer to the train station after breakfast and board the first class car on the TGV high-speed train back to Paris. Have the afternoon for individual pursuits in Paris, then regroup for a Farewell Dinner at the highest panoramic restaurant overlooking the city. (B,D)
Sat, May 4: Following breakfast, transfer to the airport for your nonstop flight to Indianapolis. (B)
Hotel
Hotel Pullman Tour Eiffel Hotel – Paris
Highlights: WiFi • flat screen television • free movies on demand • safe deposit box • mini bar • coffee/tea maker • hairdryer • restaurant/bar • fitness center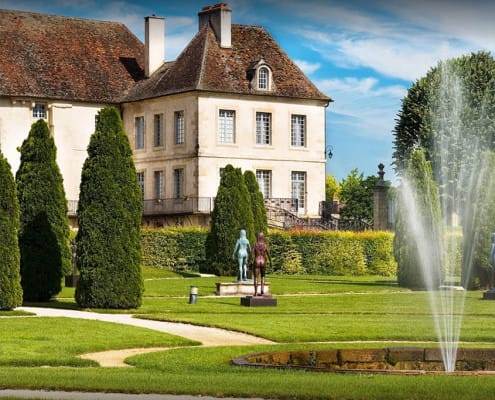 Hotel Chateau de Gilly – Beaune
Highlights: WiFi • television • safe • mini bar • room service • meeting rooms • tennis courts • billiards • open air pool • luxury dining
Highlights: WiFi • television • in-room safe • hairdryer • coffee/tea maker • mini fridge • iron and ironing board • restaurant • bar • fitness center
Hotel Mercure Pont D'Avignon – Avignon
Highlights: WiFi • flat screen television • in-room safe • hairdryer • coffee/tea maker • mini fridge • cafe/bar • nearby fitness center and golf course
Hotel in Nice (Hotel Plaza or Hotel Ettington)
More information coming soon.
Double P/P – $5,499
Single – $6,499
Double P/P – $4,449
Single – $5,449
Ambassadair Trip #7590
Documents Required: Valid Passport & ETA
Deposit Per Person: $300
Final Payment: 01/24/19
Cancellation Fee Per Person: Booking-91 Days: $150; 90-0 Days – No Refund
Trip Insurance: Optional Trip Insurance through Travel Insured International. To purchase, call your Ambassadair Travel Counselor.
*Subject to change due to increase in exchange rate or fuel surcharge
AMBASSADAIR
9011 North Meridian Street,
Suite 100
Indianapolis, IN 46260
Reservations:
(317) 581-1122
Toll-Free:
(800) 225-9919
Office Hours:
Monday-Friday
8:30 a.m. – 5:30 p.m. EDT