Canadian Rockies by Rail
Jasper to Vancouver on the Rocky Mountaineer
It's hard to steal the spotlight from the marvels of Banff and Jasper National Parks or the vibrant city of Vancouver, but the train trip between the destinations pulls it off. Spend two days enjoying the all-inclusive SilverLeaf service on board the Rocky Mountaineer while taking in the breathtaking beauty of the Canadian Rockies through oversized dome windows. Travel through scenic valleys, the Coast Mountains range, and the Fraser Canyon with its spectacular white water rapids and dramatic landscape. Follow the route of the Fraser River, home of British Columbia's largest salmon run, pass by the Albreda Glacier and magnificent Pyramid Falls, searching wildlife on the way. The highlight of this route is majestic Mount Robson, the highest peak in the Canadian Rockies.
In Jasper National Park see the dramatic Maligne Canyon and its picture-perfect lake. Travel one of the world's most spectacular roads, the unforgettable Icefields Parkway. Discover the natural beauty of Moraine Lake, the powerful Bow Falls, and impressive Hoodoos. From the highest peaks and largest icefields to the lush green Pacific coast of Vancouver, the unparalleled beauty of Canada's West will forever be etched in your memory.
HIGHLIGHTS INCLUDE
Panoramic helicopter tour
Ice Explorer excursion on Athabasca Glacier
Banff Gondola ride
Vancouver sightseeing tour
2-day SilverLeaf rail service on the Rocky Mountaineer from Jasper to Vancouver

All daylight train travel
Dome coach with oversized windows
Captivating narration from onboard host
Complimentary alcoholic and non-alcoholic beverages and gourmet snacks
Regionally inspired gourmet meals serviced at your seat
Onboard gratuities
PACKAGE INCLUDES
Roundtrip commercial air from Indianapolis to Calgary, Canada and from Vancouver, Canada
Escorted
8 nights accommodations
Breakfast daily
2 lunches
Sightseeing and admissions per itinerary
Ground transportation
NOTE:
PASSPORT REQUIREMENT!
A passport is now required to travel to this destination and must be valid for at least six months after your return.
This itinerary covers areas of higher altitudes and includes activities where moderate walking, possibly on uneven terrain is required.
Itinerary
Tue, June 4: Fly to Calgary, Alberta, Canada. Transfer to the Delta Calgary Downtown and enjoy the day at leisure.
Wed, June 5: Depart Calgary via motorcoach for a full day tour concluding in Banff. Stop in Kananaskis and take a panoramic helicopter tour for incredible views of the glaciers, mountain vistas, lakes, and waterfalls of the Rockies. Continue on to Banff for a sightseeing tour including Bow Falls, Lake Minnewanka, Surprise Corner and the Hoodoos. Enjoy a 360-degree view of the breathtaking Rocky Mountains with a gondola ride to the top of Sulphur Mountain at an elevation of almost 7,500 feet. Check in to the Moose Hotel for the next two nights. (Meal: Breakfast)
Thu, June 6: Todays touring includes Yoho National Park and Banff National Park. Visit Lake Louise, often known as the "Jewel of the Canadian Rockies," where the Fairmont Chateau Lake Louiseproudly stands at one end and the Victoria Glacier reflects off the other. Marvel at Emerald Lake and stop at the Spiral Tunnels viewpoint, where three lines of railway are laid at different elevations to cross the Kicking Horse River on four bridges. (B)
Fri, June 7: Depart Banff for Jasper, traveling alongone of the most scenic highways in the world, the Icefields Parkway. Visit the Columbia Icefield and take an Ice Explorer excursion to the middle of the Athabasca Glacier and learn about how it was formed and its geological features.The Columbia Icefield is one of the largest accumulations of ice south of the Arctic Circle and one of the most accessible icefields in North America. Explore the Columbia Icefield Centre before arriving in Jasper in the late afternoon. Check in to the Crimson Hotel for two nights. (B)
Sat, June 8: Today, enjoy a sightseeing tour of Jasper National Park, a UNESCO World Heritage Site and along with Banff, one of Canada's most popular national parks. See some of the park's natural attractions and rugged peaks,including Pyramid Lake, Patricia Lake, and Maligne Canyon — the deepest canyon in the park. (B)
Sun, June 9: Board the Rocky Mountaineer and travel to Kamloops in the heart of British Columbia interior, enjoying the dramatic scenery of the Continental Divide and the river valleys of the Monashee and Cariboo Mountains. Pass Pyramid Falls and majestic Mount Robson — the highest peak in the Canadian Rockies, climb over Yellowhead Pass, and journey along the North Thompson River. Overnight in Kamloops where all accommodations are of moderate standard. (B,L)
Mon, June 10: Your rail journey continues towards the Pacific Ocean and the coastal city of Vancouver. See dramatic changes in scenery, from the desert-like environment of the Interior, through winding river canyons and pristine forests, to the Coast and Cascade Mountains and the lush green fields of the Fraser Valley. Highlights include the steep slopes and rock sheds along the Thompson River and the rushing waters of Hell's Gate in the Fraser Canyon. Your rail journey ends in Vancouver for a two-night stay at the Sheraton Wall Centre. (B,L)
Tue, June 11: Enjoy a sightseeing tour of Vancouver's North Shore. Take the Skyride gondola at Grouse Mountain for breathtaking views of the city, ocean, and surrounding mountains, and visit Capilano Suspension Bridge to walk across the world's longest suspension foot bridge perched 230 feet above Capilano Canyon and a thriving coastal rainforest. The evening is yours to explore at leisure. (B)
Wed, June 12: Transfer to the Vancouver airport and fly home. (B)
Hotel
Delta Calgary Downtown, Calgary.
Ideally located in downtown Calgary at the intersection of the city's business and cultural districts, the hotel has convenient access to venues through the Calgary Skywalk system and public transportation, which makes exploring the city easy. Highlights: in-room coffee/tea maker • complimentary WiFi Internet access • restaurant • bar • indoor pool and hot tub • fitness center.
Located a one minute walk from the heart of downtown Banff, the Moose Hotel & Suites features mountain elegance with warm, rich, natural materials. Highlights: in-room coffee/tea maker • complimentary WiFi Internet access • restaurant • bar • indoor pool • outdoor rooftop hot tub • fitness center.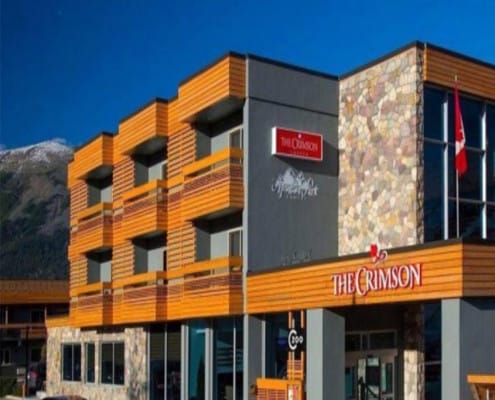 Just one block and an easy walk to the downtown shops and restaurants, The Crimson Jasper is Jasper's newest hotel. Highlights: in-room coffee/tea maker • complimentary WiFi Internet access • restaurant • bar • indoor pool and hot tub • fitness center.
Kamloops hotel will be announced approximately one month prior to departure. All accommodations in Kamloops are of moderate standard.
Sheraton Vancouver Wall Centre, Vancouver.
A landmark hotel with floor-to-ceiling and wall-to-wall windows with stunning panoramic views. Located within walking distance of Vancouver's best restaurants and top galleries.Highlights: in-room coffee/tea maker • complimentary WiFi Internet access • restaurant • bar • indoor pool and hot tub • fitness center.
Double P/P – $5,299
Single – $6,669
Double P/P – $4,489
Single – $5,859
Ambassadair Trip #7678
Documents Required: Valid Passport
Deposit Per Person: $600
Final Payment: 03/06/19
Cancellation Fee Per Person: Booking-12/10/18: $75; 12/11/18-3/5/19: $600; 90-0 Days – No Refund
Trip Insurance: Optional Trip Insurance through Travel Insured. To purchase, call your Ambassadair Travel Counselor.
*Subject to change due to increase in exchange rate or fuel surcharge.
CANADA TRAVEL RESTRICTIONS Any person may be denied entry to Canada for reasons including, but not limited to, security risks, health issues, financial condition, and involvement in criminal activity (regardless of degree or length of time since such crimes occurred) such as DUI, DWI, reckless driving, negligent driving, misdemeanor drug possession, all felonies, domestic violence, shoplifting, theft, and other crimes. It is recommended that a person who has ever been charged with, or convicted of, a crime obtain the necessary approval documents before attempting to enter Canada. To learn more about applying for and receiving these approvals and corresponding documentation, we strongly recommend that you visit the following website for details regarding the requirements and process: www.cic.gc.ca/english/information/inadmissibility/index.asp. This is only a guide. A Canadian immigration officer will decide if you can enter Canada when you arrive at a port of entry.
AMBASSADAIR
9011 North Meridian Street,
Suite 100
Indianapolis, IN 46260
Reservations:
(317) 581-1122
Toll-Free:
(800) 225-9919
Office Hours:
Monday-Friday
8:30 a.m. – 5:30 p.m. EDT